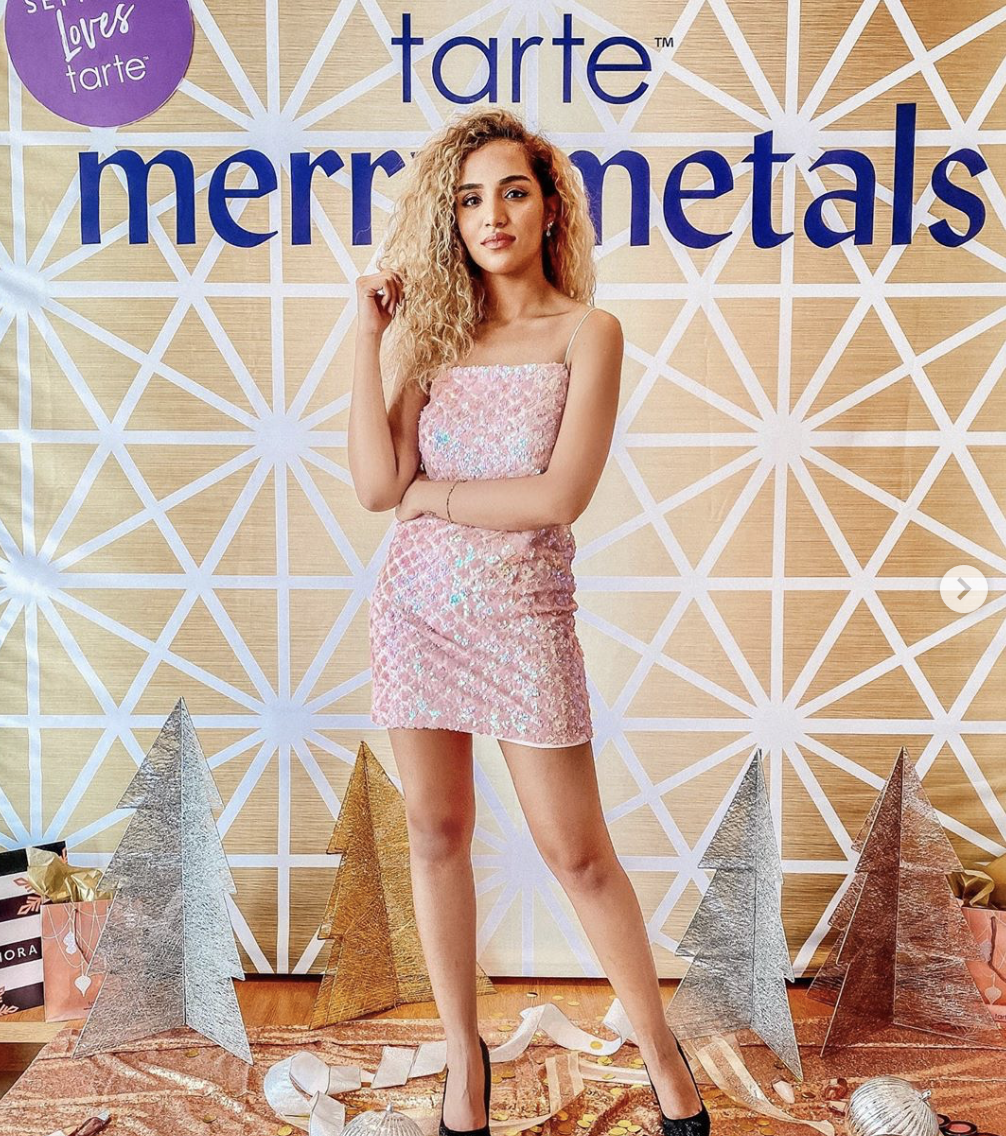 introducing the NEW merry metals holiday collection

For high resolution images, please use the following link:
https://www.dropbox.com/sh/ph8ma6tdn8wss72/AABtThNLZAh1HV3DFzHV0tnda?dl=0
Extra, extra, we're all about it! tarte's new merry metals holiday collection has all the right essentials ready & dressed in their holiday best. 
This holiday season boost your lash volume & confidence with tarte's limited-edition big ego™ mascara – the ultra-black, flake-free vegan mascara that instantly lifts your lashes & delivers a fully-loaded flutter, now decked out in glimmering limited-edition packaging for the holidays. Bling in the holidays with the lip ornaments lipgloss set, 4 tarte fave REMIX glosses in rockin', mixed-metal packaging that deliver nourishing shine. And we're goin' chrome for the holidays with a set of 4 deluxe chrome paint shadow pots in 2 core shades & 2 never-before-seen shades to have your eyes gleamin' this season.
You can't miss this ultra-luxe holiday collection featuring all your full-glam favorites packed in one place!
9 WAYS TO SHINE CHEEK WARDROBE
AED 145/ QAR 145/KWD 12/ SAR 145/ BHD 15 
what it is:
a gift set of limited-edition cheek shades that are stacked & swivel out for your convenience & are as multidimensional as the packaging 
skinvigorating™ ingredients:
Amazonian clay: nature's most perfect ingredient for better, longer, truer wear
mineral pigments: soothe & soften skin
vitamin E: natural preservative that also acts as an emollient & antioxidant
WINTER WONDERGLAM LUXE EYE PALETTE
AED 245/ QAR 245/KWD 21/ SAR 245/ BHD 25.50 
what it is:
the ultimate winter luxury eye palette with 24 shadows, a deluxe mascara, deluxe gel liner & a double-ended brush all encased in glamorous sequined packaging
skinvigorating™ ingredients:
Amazonian clay: nature's most perfect ingredient for better, longer, truer wear
mineral pigments: soothe & soften skin
vanilla: a natural fragrance with rich antioxidant & anti-aging properties 
MERRY METALS BRUSH SET
AED 170/ QAR 170/KWD 14/ SAR 170/ BHD 17.50
what it is:
rose gold & snowflaked set of 5 eye and cheek brushes that's packed with good vibes
 set includes:
highlighting brush
rounded powder brush
large powder brush
blending eyeshadow brush
flat shader eyeshadow brush
LIP ORNAMENTS LIPGLOSS SET
AED 135/ QAR 135/KWD 11.50/ SAR 135/ BHD 14
what it is:
tarte's fave gloss that's conditioning & not sticky, now in 4 limited-edition sparkly shades & mixed-metal packaging
skinvigorating™ ingredients:
hyaluronic acid: naturally-occurring ingredient in the human body which delivers moisture, firmness & suppleness to skin
portulaca pilosa extract: skin conditioner which helps minimize the appearance of fine lines & wrinkles
vitamin E: natural preservative that also acts as an emollient & antioxidant
vanilla fragrance: a natural fragrance with rich antioxidant & anti-aging properties 
LIMITED-EDITION BIG EGO™ MASCARA
AED 110/ QAR 110/KWD 9/ SAR 110/ BHD 11.50
what it is:
black vegan mascara that boosts your lashes & your confidence now in glimmering limited-edition packaging for the holidays
what it does:
coats each & every lash for MAXXX-imum flutter, voluminous finish & the best lashes of your lifetime
confiDENSE booster brushTM

mimics the curves of your lashline to build root to tip volume
twisted double fiber bristle brush for maximum pigment load

vegan lash lovin' formula is #plantpowered by babassu for a nourishing flutter
 skinvigorating™ ingredients:
babassu: nourishes, moisturizes & soothes lashes
glycerin: compound found naturally in the skin to help hydrate
panthenol (vitamin b5): has antioxidant, soothing & moisturizing properties
 
PARTY OF 3 EYELINER TRIO
AED 100/ QAR 100/KWD 8.50/ SAR 100/ BHD 10.50 
what it is:
travel set of 3 waterproof, double-ended gel & liquid eyeliners in 3 new shades (it's like having 6 liners in one set!)  
skinvigorating™ ingredients:
Amazonian clay: nature's most perfect ingredient for better, longer, truer wear
mineral pigments: soothe & soften skin
CHROME FOR THE HOLIDAYS CHROME PAINT SHADOW POT QUAD
AED 100/ QAR 100/KWD 8.50/ SAR 100/ BHD 10.50
what it is:
your secret to a high-gleam gaze & the richest, most vibrant eyeshadow you've ever seen – now in deluxe size limited-edition shades sure to make your lids and vanity shine
skinvigorating™ ingredients:
mineral pigments: deliver vibrant color while soothing & softening lids
HEY CURL, HEY LASH CURLER
AED 100/ QAR 100/KWD 8.50/ SAR 100/ BHD 10.50
what it is:
a limited-edition eyelash curler with super sparkly handles, paired with our new big ego™ mascara
skinvigorating™ ingredients:
babassu: nourishes, moisturizes & soothes lashes
glycerin: compound found naturally in the skin to help hydrate
panthenol (vitamin b5): has antioxidant, soothing & moisturizing properties
GIFT OF GOOD LASHES EYE SET
AED 105/ QAR 105/KWD 8.50/ SAR 105/ BHD 11.50
what it is:
a limited-edition lash set that helps make your eyes your best accessory 
set includes:
limited-edition tarteistTM PRO cruelty-free lashes in style heartbreaker
travel-size tarteistTM double take eyeliner in black
deluxe tarteistTM PRO lash adhesive in clear
LIMITED-EDITION TIMELESS SMOOTHING PRIMER
AED 170/ QAR 170/KWD 15/ SAR 170/ BHD 17.50 
what it is:
skincare-infused primer with innovative blurring & filling technology gives a more youthful appearance while prepping the skin for makeup, now in limited-edition metallic packaging
what it does:
formulated to smooth over your biggest beauty boundaries like large pores, fine lines and wrinkles
antioxidant-rich formula gently melts into skin delivering a surge of moisture, peptides and other naturally-derived elixirs for a firmer, smoother appearance
has a lightweight texture and fresh powder scent as it provides the perfect blank canvas to enhance the look & wear time of makeup
SLAY, THEN FROSÉ COLOR COLLECTION
AED 110/ QAR 110/KWD 8.50/ SAR 110/ BHD 11.50 
what it is:
limited-edition set that adds a frosé gleam & sheen to your cheeks, lids & lips 
set includes:
deluxe chrome paint shadow pot in frosé
deluxe tarteist™ REMIX lipgloss
travel-size big ego™ mascara
deluxe Amazonian clay 12-hour blush in frosé 
#SephoraLovesTarte