A canopy of evergreens sloped along the mountain. Rare resinous heartwood, dense and dark. 
Honey-gold sun prisms in a downpour of warm rain. Explore the steamy depths of a spiced forest. 


The inspiration


Philippe Bousseton, Perfumer
,
Takasago Fragrance House
"Mesmerising Oudh Accord & Gold is a refined fragrance 
with dark complexity. The fragrance opens on a top note 
of cinnamon leaf oil for a modern hook with an aromatic 
heart of elemi oil. Constructed around oudh's natural 
leathery notes and sensualized by golden tones, the base 
adds refinement with a hint of mysterious saffron."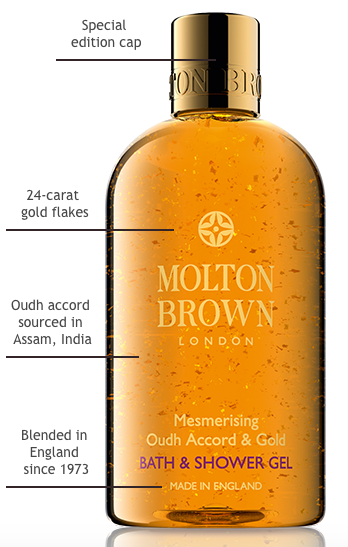 Beautiful gold
Gold has been used as a skincare ingredient by royalty throughout the ages. It was said that Egyptian queen Cleopatra used gold face masks to preserve her flawless complexion while ancient Chinese empresses refined their beauty by including crushed gold in their skincare routines.To enhance the beautiful aesthetic of our blend while adding a sumptuous touch to your bathing, we have suspended 24-carat gold flakes in our body wash.