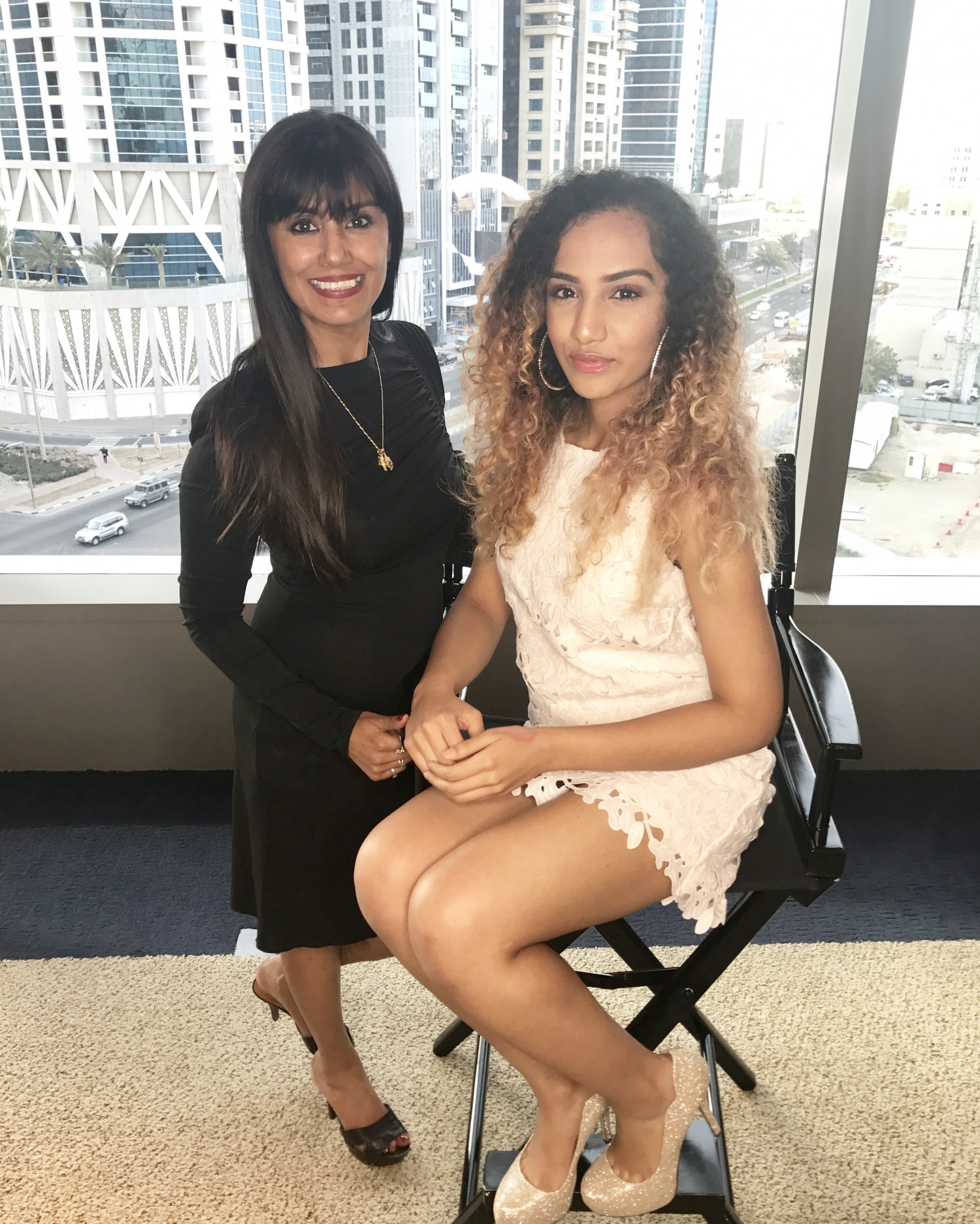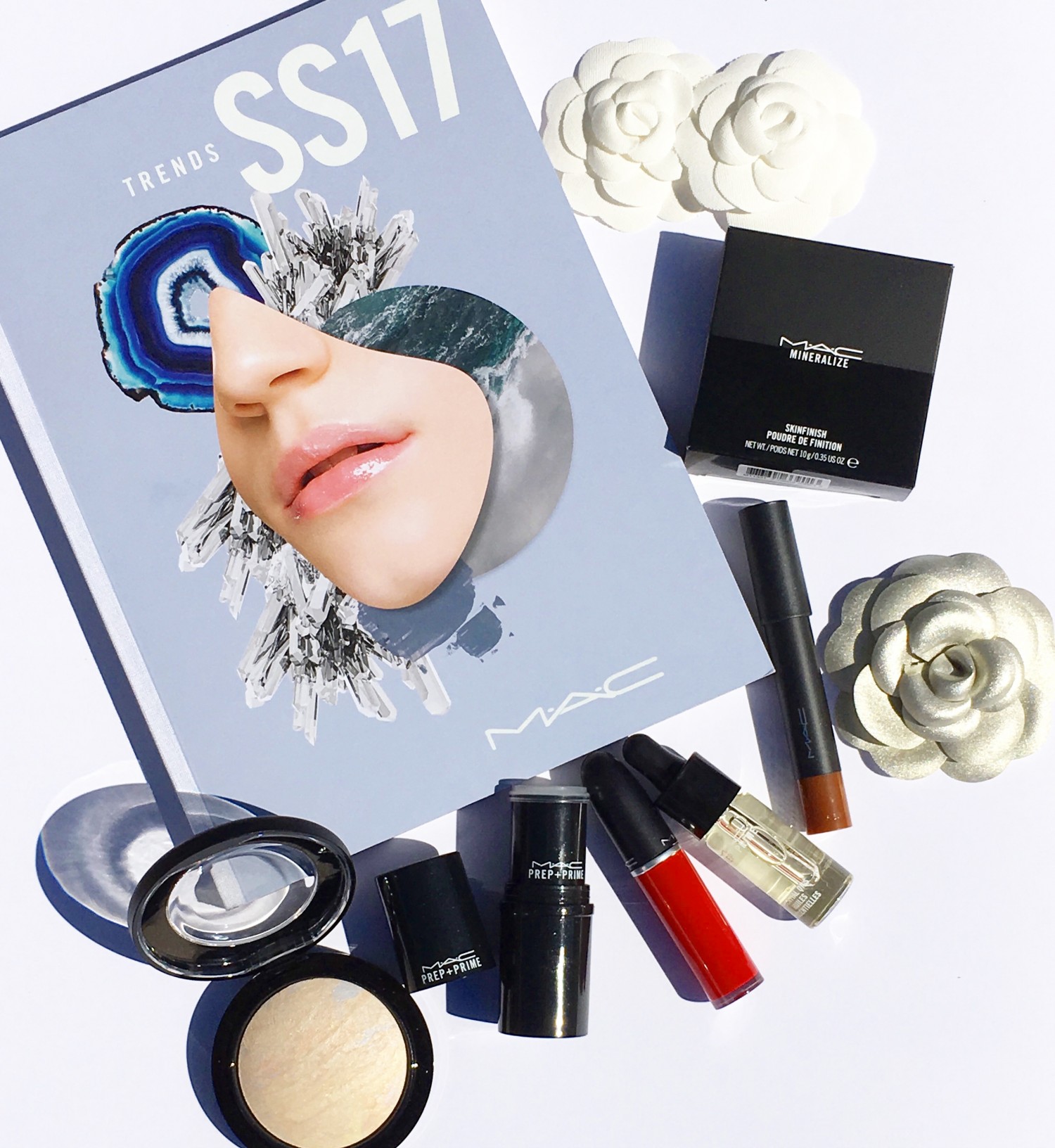 While makeup artistry can trade in the art of artifice, what feels current now centers on a human touch that is never a forged mask of beauty. Fundamentally born from a woman's point of view, SS17 is all about makeup that women want to wear. 
Through texture (a key focus, with gloss being the main way in to give life to makeup) and colour, this seasaon centres on the unfeigned, genuine and believable. The four key directions explored in this book are united by the fact that nothing looks laboured or forced.
The hand of the makeup artist may be evident in the more striking effects, but the contrivance that it took more than five minutes is not. 
This idea is an evolution of what we've seen in makeup for a few seasons now; believability has become intrinsic to modern beauty. "The codes of beauty have fundamentally changed in recent years," says Lyne Desnoyers. "Reality is so enduring; it's inherently part of our language as artists now. Credible, authentic makeup styling is what real women want; it's built for modern life and style."
Why? It's threefold. Firstly, because convoluted clothes (of which the fashion landscape is flooded; concepts and craft are key to how designers mark their identity today) simply cannot be paired with overtly referential makeup. "When clothes have as loud a voice as they do this season, the makeup really needs to be pared back," says Val Garland. Secondly, "Because seeing makeup as a corrective tool is old-fashioned," adds Terry Barber. "The new view on beautification is broken, glossed, greased or has a certain (simple) unexpectedness to it." And finally, as Alex Box points out, "You want to project realness when what you see all around you is unreality." Authenticity is fashion's reply to the perfectionism prevalent in social media. So, studied idealism and heaviness is out; gestural, individual, weightless, unselfconscious and experimental is in. 
There's the enduring appeal of the REAL – an unfiltered realism to beauty that lives 
and breathes as women wear it; worn-in and enhancing, never heavy…
 The allure of FREE, liberal adornment – stamps and slashes of expressionist colour that provide an inspiringly abstract moment in the art of SS17 makeup: energetic, gestural 
and refreshingly unconventional… 
The visceral beauty of WET gloss – from sweat to humidity, the perennial fascination 
with how light fits and flatters a face is explored as a texture, from vinyl shine 
to emollient sheen… 
The intrinsic attraction of WARM colour – a palette drawn from the heat of the environment (the sun, the beach, petals, terracotta, crystals, the earth) worn with a simplicity that renders it modern… 
The boundaries between the four tendencies are distinctly blurred – characteristics of ease, broken texture and elements of gloss are innate to them all. Which is indicative of the fact that there is no strict prescription to makeup today, no hard and fast rules that delineate one makeup direction from another. Which is to be embraced: wear them your way. 
The only concrete, key pointer? As Gordon Espinet simply concludes: 
"To look modern it has to look easy and honest…and never too cosmetic."
REAL
There is an overarching tendency for makeup to lean toward the (apparently) nonchalant this season. This ranges from the literal "bare face" – aptly described by Diane Kendal 
as "grooming for girls," and Gordon Espinet as "next to nothing, but not literally nothing" – to stronger looks that are specifically finished to give the impression of belonging to the individual (as opposed to applied by a makeup artist). An essential feature of modern makeup this season is appearing, in some way, "broken down."
This direction is a direct reference to the real makeup that real women wear: Brazil nut brown or residual black on the eyes, a remnant of lipstick (or at least one that doesn't look highly perfected), clean, ostensibly bare skin. "Everything feels very easy, unforced," says Val Garland. "It's not about being conceptual," agrees Sam Bryant. "It's about looking hyper-real."
Worn-in and worn off: this is makeup that migrates. It is corporeal; it lives and breathes, thanks to what Lyne Desnoyers describes as "malleable textures" – creams and glosses that wrap around and into the features. These finishes have a humanity to them that breaks the powdered and perfected convention of "sophistication."
Which is all to say that this unstudied effect is the height of modern chic. As Terry Barber perfectly summarizes: "true beauty is all about style, not physical perfection."
ESSENTIALS
RETRO MATTE LIQUID LIPCOLOUR in HIGH DRAMA, FEELS SO GRAND
M·A·C STUDIO FIX PERFECTING STICK 
EYE KOHL in TEDDY, FELINE
BROW SCULPT
BRUSHSTROKE LINER in BRUSH BLACK
FREE
Dynamic and vibrant, colour has a free-form feel for SS17. Elated, vivid and always worn against nothing else – so that it feels abstracted and spontaneous – the free spirit of SS17 plays into the movement for "individual" makeup. It ignores any rules on placement, proportion or convention and deliberately declares itself as something singularly adorning: "It is a marking rather than a classic beauty gesture, which enhances the features in 
a non-traditional sense," says Alex Box.
"It is playful, not serious," says Val Garland. "The opposite of taking yourself seriously 
and filtering your selfies."
Naïve in effect, if not technique. "Seeming spontaneity is much more difficult to craft 
than perfection," points out Terry Barber. Free makeup is about "precision and play 
in equal measure," adds Box.
As much as this quality of makeup makes a joyous expressionist statement, they 
are mesmerically beautifying, too. "These colour accents energize the face," says 
Lyne Desnoyers. "They break apart 'good taste' to better define it for now."
ESSENTIALS
IN EXTREME DIMENSION LASH In SKY IS THE LIMIT, HOLD FOR 10, FEEL MY PULSE, ENERGIZED
PAINT STICKS In PROCESS MAGENTA, PRIMARY YELLOW, HI-DEF CYAN,
TRUE CHARTREUSE
CHROMALINE In PRIMARY YELLOW
WET
The art of mimicking light on the skin (and replicating a radiance coming from within it) is an enduring preoccupation for makeup artists. The reason is simple: "There is a modern simplicity to shine that is also incredibly flattering," says Val Garland. This season, artists are captivated with light and reflection in its purest sense – as a texture.  "Glosses, oils and shines look authentic, as if they come from within the skin," continues Garland. "Shimmers and powders always tend to look more like makeup."
As the fashion industry's response to the very filtered and tuned approach to mass-culture beauty, this tendency is all about the exploration and celebration of how balm, oil and emollient texture works to enrich and humanize makeup. Gloss can look clean, groomed and pure or equally nod to a sweaty, worn-in urbanism. "Gloss brings out the athleticism in the bone structure but also enhances the individuality of makeup by breaking it down," explains Lynsey Alexander. "Anti-perfection looks very modern," adds Tom Pecheux. "Luxury now has real identity to it."
Congruent with the omnipresence of wet texture is the continuing appeal of "natural" skin in its truest sense: the cliché that "less is more" has never been truer, as the treatment that Gordon Espinet describes as "#nofilter" has become the new fashion standard. In short, concealer where necessary with skincare stepping up as the modern replacement for matte or reflective foundations (Val Garland's favourite recipe:  Mineralize Timecheck Lotion for a velvet matte finish, Prep + Prime Moisture Infusion to mimic plump hydration, Care Blends Essential Oils on the cheekbones). The role of powder, too, has been given a rethink: today it deliberately enhances and amplifies shine by being placed against it. "Like applying all-over foundation, the idea of homogenously powdering the entire face is old-fashioned," confirms Lyne Desnoyers.
Hence, the story of gloss this season is super strategic. "It all looks massaged in, not artificial and is very specifically placed," says Barber of the way that gleam works on the eyes, cheeks, lips and temples. "It's about exploring different weights and depths of reflection. Building up considered layers, from skincare glazes to points of vinyl shine." 
The best tool? "Your fingers," says Alexander. "Their warmth helps gloss become one with the skin."
ESSENTIALS
STROBE CREAM in PINKLITE, PEACHLITE, GOLDLITE, SILVERLITE
PREP + PRIME ESSENTIAL OILS
PREP + PRIME ESSENTIAL OILS STICK
M·A·C STUDIO EYE GLOSS in CLEAR AS GLASS, SPANK ME, NEXT UP NEON
MODERN TWIST KAJAL LINER in SQUID
WARM
This is beauty at its most feminine. Sunned, summery and inspired by the brighter side of nature, artists are pulling from an organic palette, applying these heated shades in soft washes and tints. "These colours are designed to enhance and mimic really great skin condition," says Terry Barber, emphasizing that texture is vital to this point: "The modern way to wear them is in textures that have an affinity with the complexion."
Which means you should see the skin through them, and give it a bit of a sheen or gloss, as SS17's preoccupation with shine extends to this tendency in makeup, too. "These are very classic beautifying tones," says Lyne Desnoyers of the optimistic, flora-inflected palette. "But what makes them interesting and feel new is all in the finish we give them; most notably, what the application of an oil or gloss does to the way they bring life to the face."
From a flush to a blush to a bronzed skin and myriad pinkish to peach tints on the eyes and lips, think of these shades as a means to heighten nature rather than cover. 
"Peach, pink and tan look alive and fresh when applied with transparency," says Mark Carrasquillo. "They are what I call very heightening colours." So while shine textures are the way to update rose and apricot tones for today, there is nothing complex or conceptual about this ultra-feminine leaning in makeup. "It's not about transforming the face," explains Tom Pecheux. "It's simply about making it look more beautiful."
ESSENTIALS
EXTRA DIMENSION SKINFINISH  in SHOW GOLD, SOFT FROST, BEAMING BLUSH
RETRO MATTE LIQUID LIPCOLOUR in DIVINEDIVINE, LADY-BE-GOOD, FASHION LEGACY, QUITE THE STANDOUT, RICH & RESTLESS, MADEMOISELLE
VELVETEASE LIP PENCIL in FROLIC, TEASE ME, PROMISE ME
MINERALIZE BLUSH in WARM SOUL, GENTLE
BRONZING POWDER in BAIANA BRONZE
MINERALIZE SKINFINISH in PERFECTLY LIT, BARELY DRESSED
LOOSE POWDER in TOUCH MY BODY