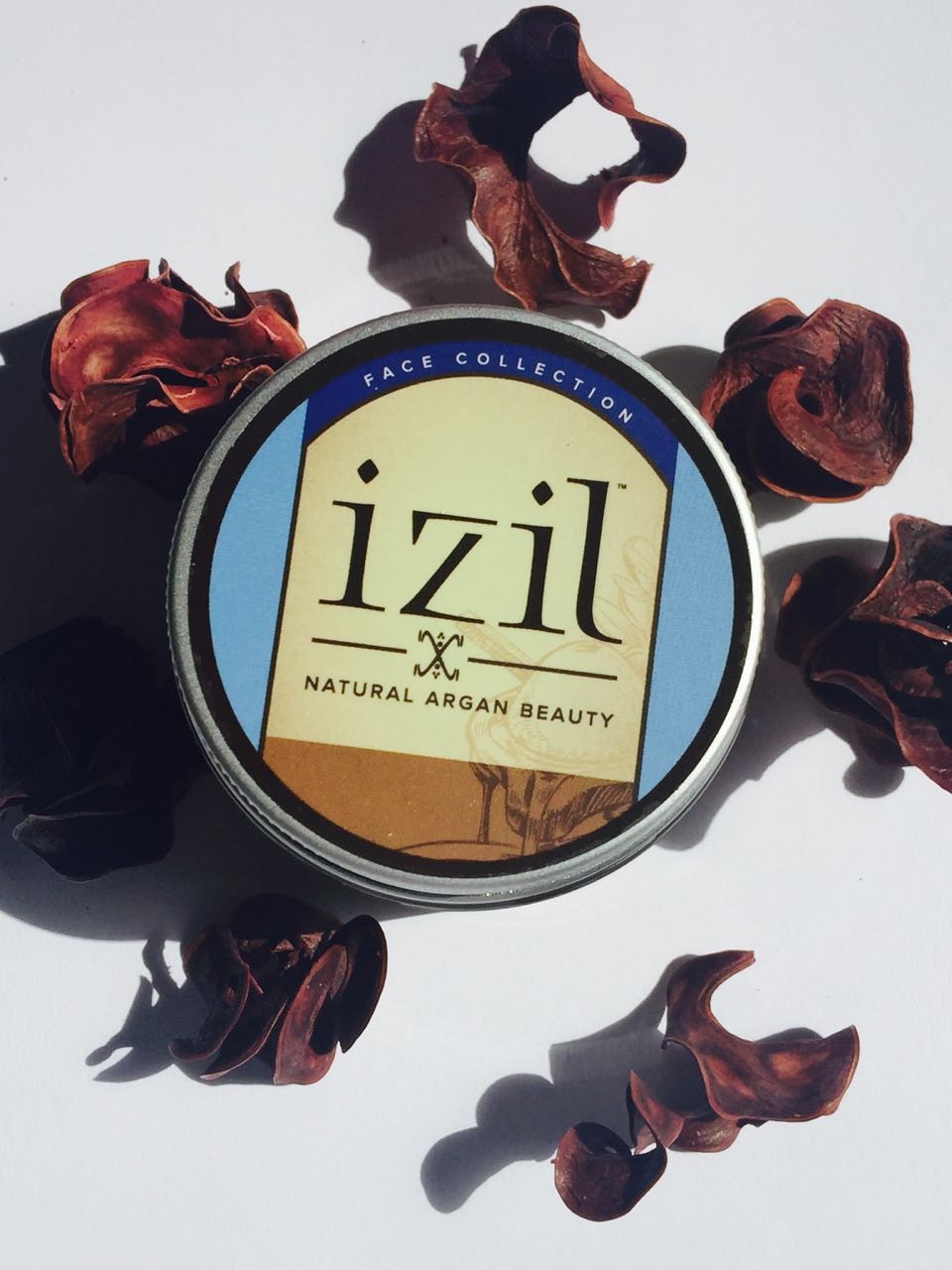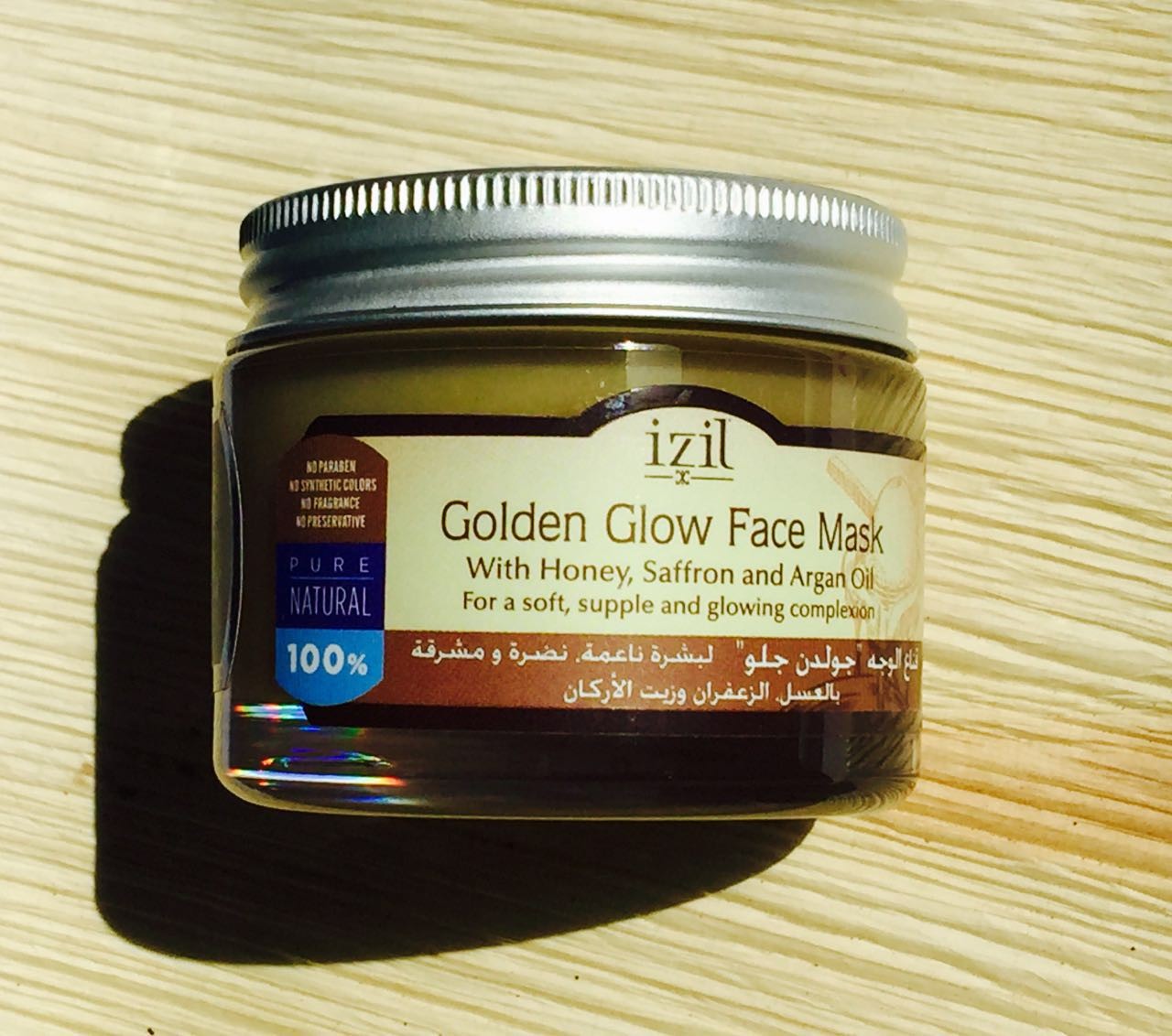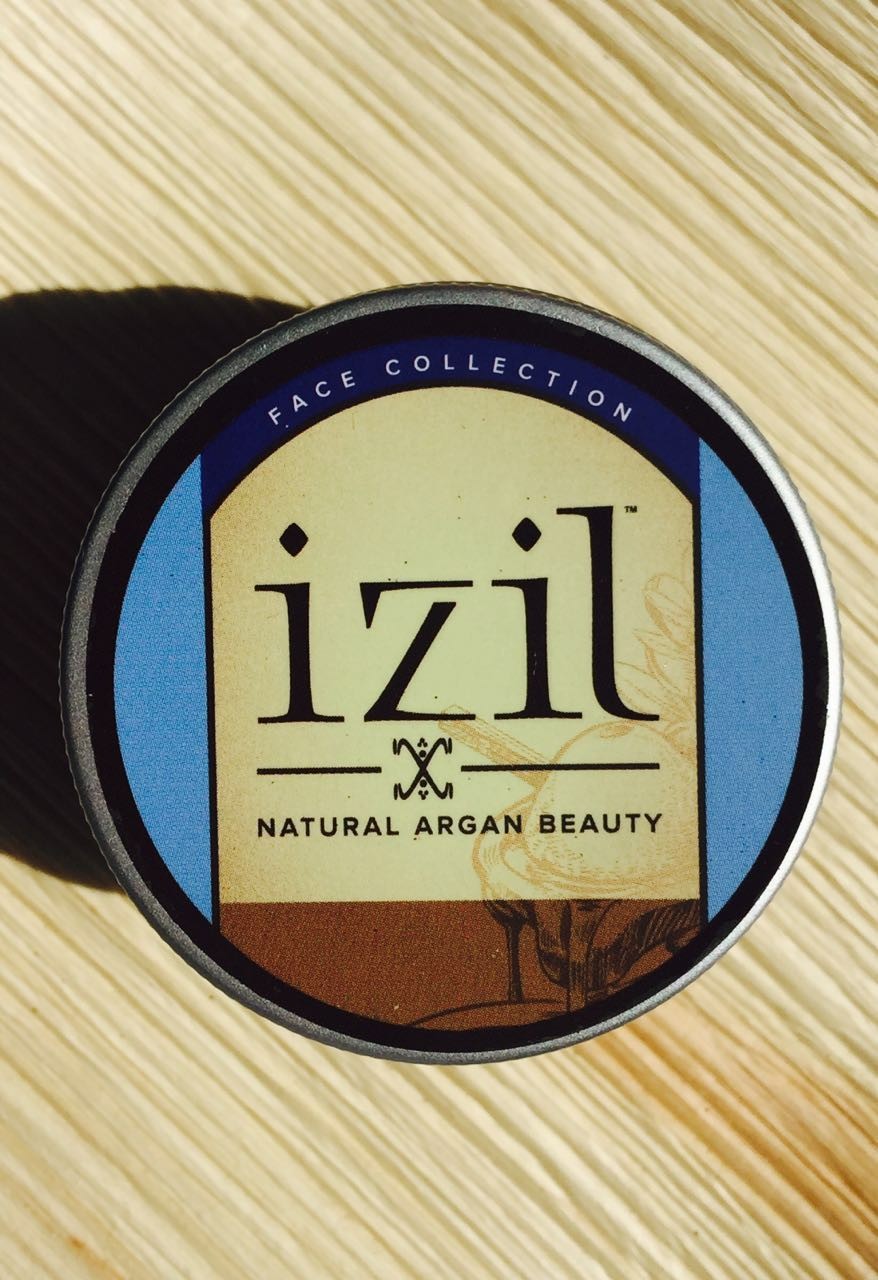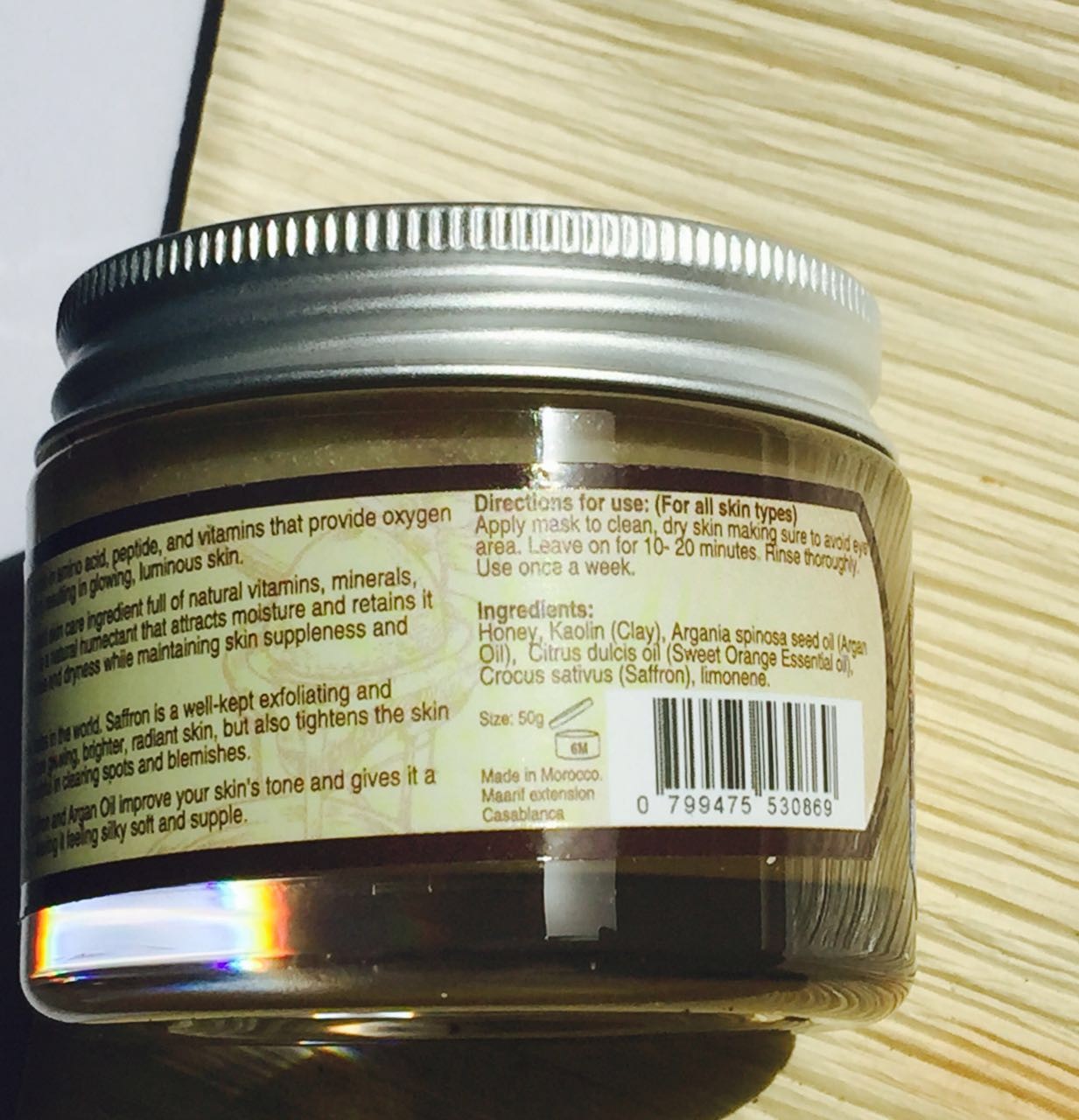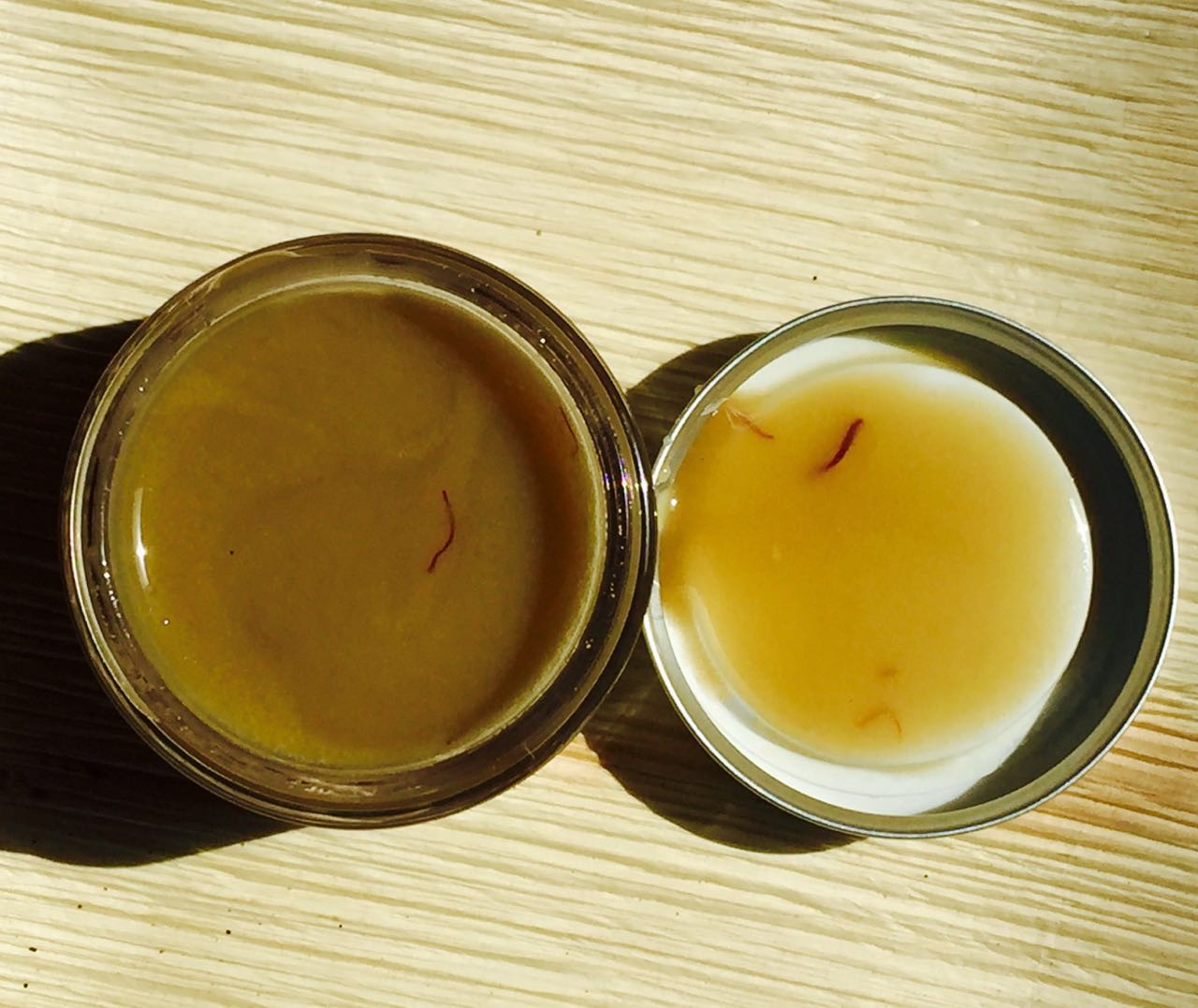 Hey you guys :D! 
I'm going gaga over the Izil Golden Glow Face Mask & Scrub which yields multiple benefits for facial skin. This incredible natural, organic and chemical free product is infused with honey, saffron and Argan oil to boost, firm and equalize the skin texture by closing the open pores and clearing spots & blemishes.
Let me first introduce you all to UAE's Izil Natural Argan 
Made from nature's purest, most potent ingredients and finest fragrances, every care is taken to make certain that your beauty ritual is as effective as it is enjoyable. Special blends of organic plant extracts, fruits and essential oils of supreme quality have been carefully chosen. 
Each unique creation contains naturally sourced elements that deliver visible results.  Healthy, sustainable and enduring beauty is where we stand. Whilst we do use a naturally approved preservative in our products, our formulations are free from harmful chemicals, synthetic preservatives and parabens. 
Our labels are clear and honest, listing all of our natural and organic ingredients, bringing you the best that Mother Nature has to offer. 
The IZIL Argan Oil 
IZIL Argan Oil is 100% certified organic and chemical-free. It is cold-pressed and produced in a highly controlled environment to minimize oxidation, bringing you the world's finest Argan oil in its purest, most potent form. Rich in antioxidants and essential Omega 3,6,9 fatty acids, Argan oil also contains three times as much vitamin E as the most virgin olive oil. The benefits for face, body and hair are endless.
Ingredients 
-Honey- It hydrates the skin deeply and maintains suppleness of the skin.
-Saffron- Helps in brightening up the skin.
-Argan Oil- This oil is the world's rarest natural oil and is infused with high concentration of Vitamin E, antioxidants, carotenoids, polyphenols and fatty acids.
How to use
This warming Izil Golden Glow Scrub & Mask is gold in color with traces of saffron in it. I applied it to my face with fingertips (you can also use a brush). It's slightly sticky so it sets well on the face. The mask is not at all aqueous and can be applied effortlessly. I scrubbed and washed it after 15 minutes and I'm truly flabbergasted to see the after effects of the Izil Face Mask.
My opinion
My skin instantly looked purified and flawless as the ingredients seized impurities and excess traces of makeup in just a few minutes. The formula hydrated my skin and left a luminous finish to my facial skin. Scrubbing helped in removing debris and grime from clogged pores. 
I even tried in on my mother and father and to my surprise, the results were overwhelming. The mask stimulated blood circulation so their skin felt firmer and wrinkle-free in just a few applications. The formula removed the skin residue and brought back their color and freshness to their facial skin. It's alluring summery scent is mild. The formula also slows down pigmentation and brown spots. Izil overall recommends a gentler way to cleanse and exfoliate the skin without irritating it. The Golden Glow Mask helps to plump, hydrates and close pores naturally. This treatment can be carried out effortlessly and comfortably at home once in a week or twice on a weekly basis.
The mask heals the skin and suits sensitive, oily to dry skin.
I highly recommend the saffron infused mask to people who are looking for a wrinkle and blemish free complexion and I'm sure, you will be inclined to touch your facial skin frequently as the Izil Golden Glow Mask will equalize the skin by leaving it hydrated, moisturized and glowing. This organic, express beauty treatment has become a very important routine for all my family members. 
Hope you had a great read and I would love to hear your comments on this mask.